I was so tired that I slept until 12. After seeing the doctor, who checked my pulse, I was put on treatments to prepare my body and mind for letting go.
I immediately felt like I was in heaven.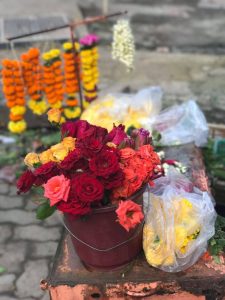 My treatment started with a heart dhara—an amazing treatment where they put warm oils on your chest, in the area of your heart.
This is great for the heart, and helps you balance your emotions and calm your vata. In Ayurveda, vata, pitta and kapha are the three elements that make up each of our constitutions. Vata is composed of space and air, and its energy controls motion such as blood circulation, breathing and your heartbeat. When your vata is out of balance, it can cause fear and anxiety. When it's in balance, you feel amazingly creative and can adapt easily to any situation.
I finished my amazing heart dhara. Then, the funny part started. I received another treatment where they rubbed my entire body with a mixture of mahanarayan oil, onion, garlic and power herbs. This is a great way to boost the metabolism. Although not a drop of the mixture went into my mouth, you have no idea how hungry I was after smelling the oil! It smelled just like a kitchen.
Detox is all about letting go of the toxic things and adding more of the good stuff, and this includes what goes on in your mind and emotions. The mind is always living in the past and connecting the dots to painful experiences; that's how the mind works. Our brain is there to help us survive, not to make us happy. We all have painful experiences that leave scars on us: someone we trusted who hurt us, missed opportunities, breakups and misunderstandings. A detox is a journey of healing and letting go of past pain, patterns and beliefs.
During the treatment, I prepared my mind using incantations. I told my subconscious mind that every day my cells are getting younger, healthier and more strong. According to science, you really can train your brain with powerful mantras like these. I also tried another technique: During and after the treatments, I started sitting for meditation. As I breathed in, I said "Let," and during my breathing out, I said "Go." It was fascinating how quickly my nervous system reacted. I immediately felt so much more relaxed, calm and grounded. This is an amazing technique to help you let go of the pain of the past, feel more happy and prepare for high performance.